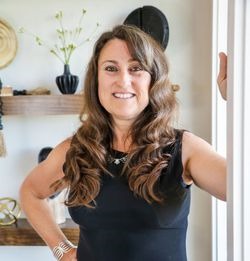 MO / KS:
2014012615 / 00235472
Team leader with the Sharp Homes Team at eXp Realty, Dawn Sharp grew up in rural Nebraska. She and her husband of 21 years, Mike, relocated to Kansas City in 2005 where they continued raising their blended family of 6 boys and 1 girl. (This may be where her early negotiating skills started…) With a degree in the area of Education, Dawn spent her early years teaching in the public school system. She volunteered with a small fire and rescue service where she then obtained her Paramedic license. She went on to combine her teaching degree with her medical knowledge and began teaching adults in the medical field; teaching courses in Anatomy & Physiology along with Advanced Cardiac Life Support and Pediatric Life Support Classes to area paramedics, nurses and doctors. 
Dawn obtained her Real Estate License in 2014 to sell homes that she and her husband had renovated. After a few friends asked her to help with the sales of their homes, she quickly realized that she loved the whole process. She worked as a solo agent until she began growing her team in 2018. 
Today, Dawn and her team strive to stay on the cutting edge of the ever changing trends in technology and have heavily implemented digital marketing in their sales arsenal. Dawn maintains her continuing education with daily training and masterminding with Realtors all over the county through both her brokerage, eXp Realty and the national coaching company, Club Wealth, where she also coaches other agents to help them achieve their goals. 
Dawn is an eXp ICON agent, exceeding the minimum production requirements, achieving exceptional sales volume and exemplifying company core values. She's also a top producing agent in the KC Real Estate Market maintaining a level of productivity in the top 2% of agents in the MLS. 
When she's not busy with her clients or her team, Dawn loves spending time outside with her husband, kids and grand kids on their 20 acre property.