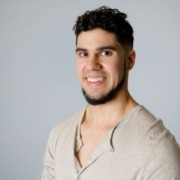 Michael Nobo is a social worker and REALTOR® who began his real estate estate career as a part time fix-and-flip investor and transitioned to becoming a licensed real estate agent in Kansas and Missouri. He's been working as a real estate agent for the last four years and enjoys working within the South Kansas City area, and the surrounding Kansas neighborhoods that make up the metro.

Michael has been living in Kansas City, MO for six years, and he enjoys the supporting the small business scene; from local restaurants to First Fridays, he knows some of the metro's best hidden gems. Since moving to Kansas City, Michael and his wife, Jennifer, have been involved in serving their community. Together they've a Big Couple with Big Brothers and Big Sisters of Kansas City for 5 years; Michael serves on the Board of Directors for Clement Waters and as a psychotherapist, Michael provides mental health therapy for the Kansas City community.

Michael's business is built on relationship and understanding the needs of his clients - his skills as a mental health therapist allow him to do this better than most others. Michael's accurate understanding of his clients' needs allows him to identify what they're looking for now and predict what they may need in the future; this ultimately leads to many happy clients. 

If you're looking for an agent who will to take the time to understand what your needs are and develop a relationship with you, Michael will be a great fit for you.